On the weekends of music festivals like Malasimbo and Wanderland, I took a trip with a couple of friends to an artist beach resort called Real Surf PH in Quezon hoping to beat the heat and the festival crowd. As soon as we step foot into the small town of Real, we're surrounded with sand, water, waves, nature, beach resorts, surfers, and everything else associated with the beach.
Real Surf PH located in Brgy. Malapad, Real, Quezon is the new and the nearest surfing spot to Manila for surfers, beach bums and adventurers like us. The quirky resort is a budget-friendly yet comfortable escape from the metropolis with beachfront cabanas and tent areas. It is one of the most well maintained places I have been too. Staff are all nice and friendly and is willing to help, really take good care of their guests! Local children are charming as well, they would introduce their selves and ask for our names then would start a conversation. Everything about the trip was delightful to the heart.
The first thing i noticed in this place is the close at
tention to details.
A beach squad photo.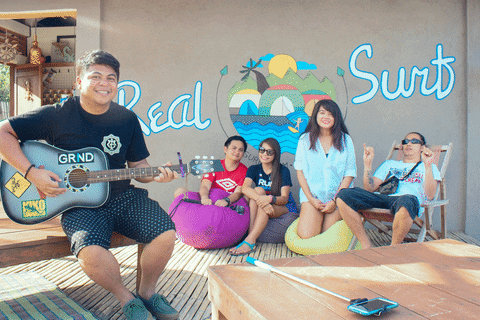 Apparently, this place could be a set of any Adam Sandler and Drew Barrymore movie
anytime soon.
I spent the quiet hours just noticing the little things; the birds overhead, the sound the waves make as they crash, the feeling of sand in my toes, and the beautiful rose quartz sunset.
Nothing more like waking up from an afternoon nap to this.
The following day felt like full-on summer. We went to another resort called Magra to rent surf boards and go on surfing, we explored a nearby waterfalls and did a lot of walking around town.
I can't imagine anything more perfect than spending the first of summer frolicking in the surf and sand, cooking over a bonfire, getting drunk, and falling asleep under the stars to the sound of gently crashing waves with different friends from the different walks of life.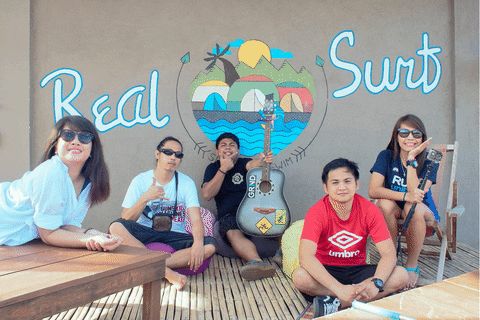 More of GIF
moment at Real Surf
.
So here, taking my fondness to capture moments to the next level. Summer is officially in full swing, right?